Poison Ivy has always been my absolute favorite Batman girl. First of all, the whole mother nature theme about her is awesome. That aside though, she has a very classic look but a bit of sexy wildness seamlessly mixed in. She can wear next to nothing & never look slutty & is the only girl I know that can pull off green lipstick! Poison Ivy is by far the most alluring & intriguing of the Batman girls.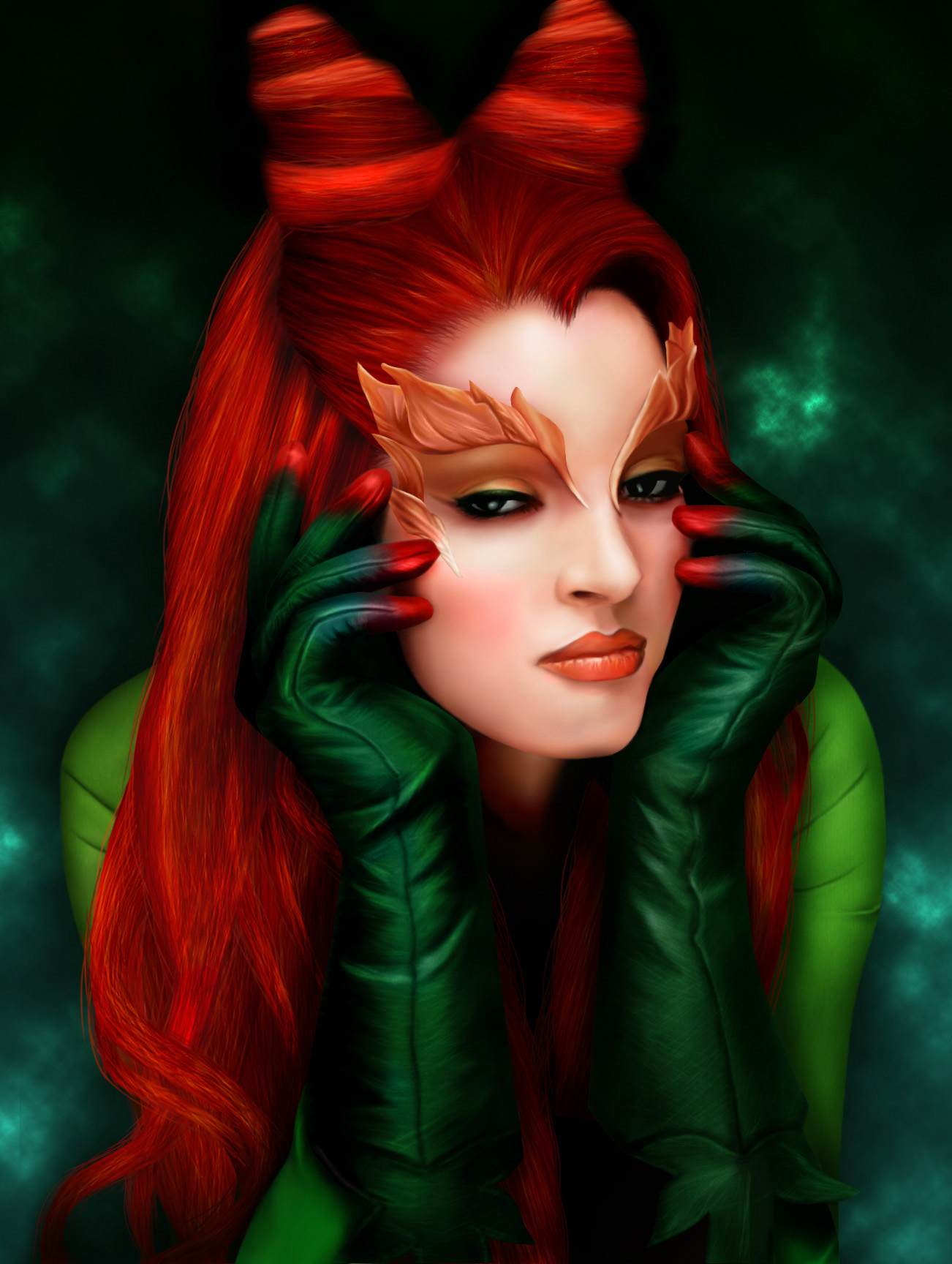 The nails I decided to do were inspired by Uma Thurman's gloves in Batman & Robin. I loved the red tips on the green base. I wanted to keep it looking from too much like Christmas, so I went for more of a springy green. I also added some beautiful vines with flowers to tie in more of Poison Ivy.
Products Used:
LA Colors Color Craze Green (this doesn't have a name on it)- I used 2 coats of this as a base because my spring green polish was a bit too sheer
Sinful Colors in Happy Ending- You want a light gold based green. Anything too blue base or dark will make it look like Christmas with the red.
Sally Hansen Nail Art Pen in Red- I really do not suggest using this! I had to constantly redo them because it would wear off the tip & streak from the top coat. You can get stick on guides for french tips & just use a red polish of your choice. I chose to make my tips a little thinner on the sides & wider in the middle.
Kiss Nail Artist Flat Stickers set 55772 NS26- I think that these are a perfect match for Poison Ivy. The black vines with flowers are flowy, girly, earthy & just a bit dangerous looking. When using nail art stickers it is best to paint your nails the night before & let them dry overnight before putting on your stickers & top coat. If there is even the slightest bit of moisture left on one of your bottom coats the sides of the sticker will pull up & cause all kinds of problems.
For Poison Ivy's makeup I just kind of went with the flow of what came to me at the time. I didn't really have a set plan or a distinct inspiration. I did try to keep her classic elegant sexiness in mind though. So I guess you can say it was kind of based off of her as a whole.
Products Used:
Urban Decay Primer Potion in Greed
Too Faced Blending Brush
ELF 100 Palette # 69
Wet N Wild Kohl Eyeliner in White
Sephora Shader Brush
Wet N Wild Bright Idea Trio Crease Shade (ELF #14 & #73 mixed)
ELF 100 Palette #2
Wet N Wild Dancing in the Clouds Trio Eyelid Shade (ELF #42 & #47 mixed)
Wet N Wild Dancing in the Clouds Trio Browbone Shade (ELF #62)
Ms Makeup Eye Shading Brush
Urban Decay eyeshadow in Mildew from The Dangerous Palette (ELF #93)
Ulta Smudge Brush
ELF 100 Palette #83
ELF 100 Palette #27
Urban Decay Glide-On Eye Pencil in Stash
Urban Decay Glide-On Eye Pencil in Graffiti
Maybelline Great Lash Mascara in Dark Brown
Gotta B' Urban Powder Brush
NYC Cheek Glow in Cherry Blossom
Physicians Formula Shimmer Strips in Miami Strip/Healthy Glow Bronzer
Revlon Pro Lip Pencil in Berry
Revlon Super Lustrous Lipstick Matte in 006 Really Red
Studio Tools Concealer Brush
Let me know if you would like to see more neutral looks like this. Also, was the numbered ELF 100 palette easier to follow then my normal directions on which colors I used?